AKC/UKC/Nat'l BA/Intl. Ch. New Beginnings Spiced Cider, CGC
DOB: 2/18/2004
OFA Hips Good, OFA Elbows Normal, OFA Patellas Normal, OFA Cardiac Clear, OFA Thyroid Normal, PRA Clear by Parentage, CERF Clear, Vwd Normal, Cystinuria Negative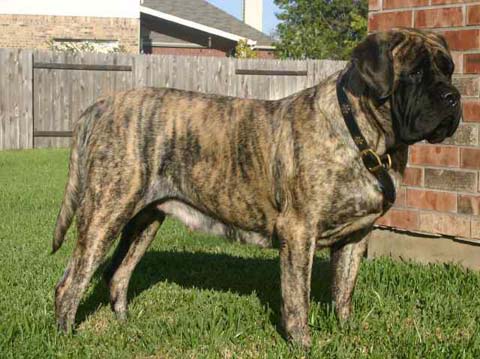 You can only have one Cider in your life :-) She is the sweetest, most wonderful dog but also is the most hyper mastiff we've ever met! She's full of energy and there are times we think there must be some Labrador Retriever in her. She is fearless and bold, yet cuddly and loving. Since Gracie has passed away, she has definitely taken the role as our bed dog. We say she's too smart for her own good and has a mind of her own -- but that makes her such a great obedience and agility dog. She even loves lure coursing! Of course, she loves meeting new people and goes so crazy trying to get their attention you'd think she had no training at all. She gets deaf when you want her to do something she doesn't want to -- like, when we tell her to get off people's laps!
Cider definitely inherited her mother's working ability. She is the daughter of Ch. Celtics NBeginning SugarN Spice, RA, CD, CGC who held the Mastiff Club of America's Novice B Obedience Collar Award in 2002 and got the highest Rally score at the 2006 nationals. Not only is Spice smart, but she had a wonderful pedigree behind her. Spice's mom is littermate to BIS/BISS Ch. Ironclads Ironhills Ivana (the winningest mastiff bitch of all time) and her dad is Westminster Best of Breed winner Ch. Oaklane's This Bud's for us.
Additionally, Cider's dad is none other than BISS/BIS Ch. Southports Sherman, the winningest mastiff of all time. Among some of Sherman's accomplishments include 29 Best in Shows, 2 National Specialty Best of Breeds, 2 Westminster Best of Breed wins, Eukanuba Best of Breed win, as well as many other top honors. He is also the receipient of the Orthopedic Foundation for Animals "Champion of Health" award. Cider is also littermate to BIS Ch. New Beginnings Makin' Waves, RN (#1 Mastiff - All Breed as of May 2008).
Cider has done well in her show career finishing her AKC championship at just over 14 months with a major win at the Mastiff Club of America Supported Entry in Beaumont, TX. She is a multiple Best of Breed winner and has received a Group 3 placement in the AKC. At 2 years old, she made the final cut (top 5 bitches) in the 2006 National Specialty Tournament of Mastiffs and was part of the New Beginnings Breeder's Cup team that won 1st Runner up at the same show. Watch video of Cider showing here at 2 years old.

Cider was bred by Karen and Jeffrey Flocker of New Beginnings Mastiffs
BISS/BIS Ch. Southports Sherman
Ch. Sillar's Southports Isaac
Ch. Night Stalker Sillars Clyde
Sillar's Lady Grace
Ch. Southports Northern Lights
BISS Ch. Regal Hill Sudden Impact
Ch. Southports Prima Bella
Ch. Celtics NBeginning
SugarN Spice, RA, CD, CGC
Ch. Oak Lane's This Bud's For Us
Am.Can. Ch. Iron Hills Under The Influence
Ch. Oak Lane's Image Of Dale
Ch. Ironclad Turrean of Celtics
Ch. Acorn Hill Uther Pendragon, CGC, TDI
Ironhills Ironclad Alibi

This free script provided by
JavaScript Kit